Members of the Independent Workers' Union employed in four Iceland stores, have announced that they will be taking strike action starting Friday, 19 May.
Strike notice was served to Homesavers, Iceland's parent company after ballots in stores in Ballyfermot, Coolock, Tallaght, and Northside Shopping centre. The ballots returned 100 per cent agreement among IWU members to proceed with the strike action.
The decision follows an ongoing dispute between the IWU and Homesavers, which began shortly after the latter acquired Iceland stores in Ireland earlier this year. The transfer of undertakings took place without any consultation with workers.
In a blatant attempt to cut costs and bully long-term staff from their jobs, the new management have been making conditions harder and harder for staff. Pay is regularly incorrect and late, and many staff are still owed money several weeks in arrears.
Most recently, Homesavers have been remotely turning off air conditioning in certain stores, leaving employees working in up to 35 degree heat. This contempt for the rights and safety of their workers has been met with complete silence from HGomesavers, who have refused to engage with the IWU, and have made little effort to resolve grievances.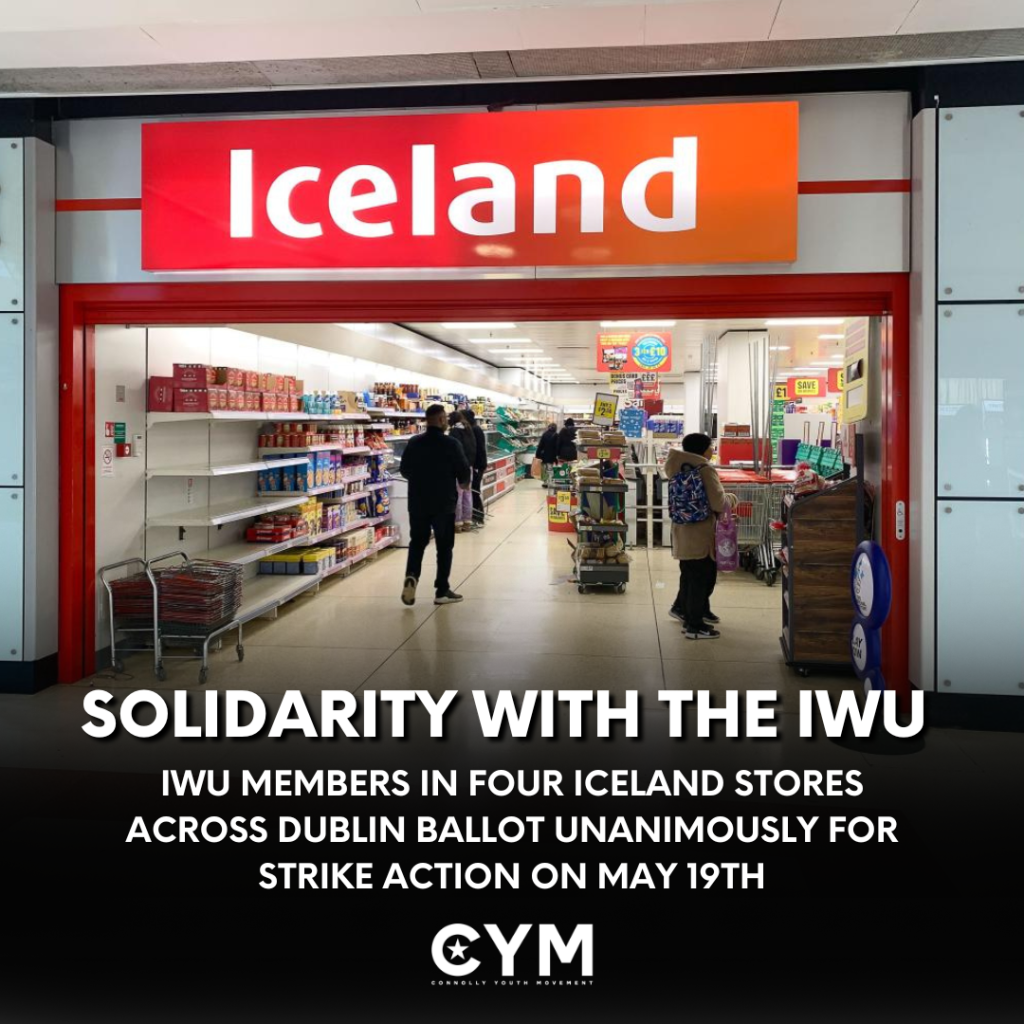 This is not an isolated example. Businesses across many industries, including retail, have been making concerted efforts to curtail the rights and entitlements of their workers. Established staff are regularly being replaced with new, younger staff on temporary contracts with fewer entitlements. These new staff are almost always non unionised.
This is all done within the context of the current anti-worker and anti-trade union government and judiciary. The ability of workers to effectively organise within unions, and to use collective action to achieve their aims has been significantly curtailed by legislation such as the Industrial Relations Act, 1990.
While the IWU has followed every legal requirement in the lead up to this strike, the employer may now seek an injunction against the strike. This will likely be granted by one of the many Fine Gael/Fianna Fáil aligned judges in the Irish legal system.
Despite this, the decision by IWU workers – many of whom are under the age of 30 – to take strike action is without doubt a positive development. Militant action such as this is the only way that the Irish trade union movement can become relevant again.
We must struggle against social partnership and reinvigorate the idea that trade unions are working class organisations for the purpose of building working class power.
The Connolly Youth Movement is committed to organising within trade unions, such as the IWU, and to campaigning for more young people to get involved in the and organise their workplaces.
Members of the CYM will be showing our solidarity with the Iceland workers on the picket lines outside the striking shops on Friday 19 May. We invite our supporters to join us, or donate to the IWU strike fund.
Support the striking workers!