PH, Béal Féirste
As a result of the ongoing Russo-Ukrainian conflict, we have seen a swift response from football authorities towards Russian clubs and the national team, mirroring actions taken in wider society by other sporting and political bodies.
Specifically, UEFA announced that all Russian clubs and national teams will be banned from their competitions until further notice. This means that, for instance, Spartak Moscow will be removed from the Europa League, whilst the women's national team won't be allowed to play at the Euro 2022 tournament this coming summer. The Russian men's national team is also due to play a World Cup play-off match next month against Poland which is similarly set to not go ahead. The winner of the tie, if it were to be played, would see their nation earn a place in the competition in Qatar in the coming winter. UEFA has also announced a termination of their sponsorship deal with the Russian energy company Gazprom, which has been a main sponsor, featuring heavily on television and at grounds since 2012.
Given the coverage of the conflict from Western media, these steps may seem, to the casual observer, like a reasonable reaction on UEFA and FIFA's parts. However, this is the same UEFA which tells us not to bring politics into sports, punishing clubs that have done so in the past. Israeli clubs in occupied Palestinan territory have been regular fixtures in elite European competitions despite them not even being in Europe. Back in 2016, UEFA fined Celtic FC £8,616 in response to supporters in the North Curve stand covering their section in Palestinian flags when they played Israeli team Hapoel Be'er Sheva, deeming the flags "illicit". Celtic supporters have long been vocal against the Zionist occupation and destruction of Palestinian land by Israel.
Just last week Celtic faced Norwegian club Bodo/Glimt in the Europa Conference League. At the start of the game Bodo/Glimt supporters held up Ukrainian flags in support of the nation in their war against Russia, not the only game in which this occurred. However, none of these clubs have been fined in the way Celtic was in 2016. This double standard raises the question: why is it deemed acceptable to show solidarity with Ukraine but not other nations experiencing oppression?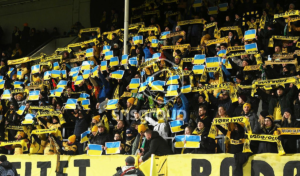 After the UEFA announcement the Irish Football Association (IFA) in the 6 counties and the Football Association of Ireland (FAI) in the 26 counties have announced their refusal to play any Russian team in any football match, following the lead of many other nations. However, the IFA ignored calls from Boycott Divest Sanction (BDS) Belfast to abandon their 2018 friendly with Israel, on account of the Israeli occupation and destruction of Palestinian land, with the protest organised by BDS Belfast close to the ground heavily policed.
FIFA also chose Qatar as the host for the 2022 World Cup , repeatedly ignoring protests from people around the world stemming from Qatari human rights abuses. Since the announcement, 6,500 migrant workers have died building the infrastructure necessary for the competition to take place.
We have to ask the question of FIFA and UEFA why similar actions weren't taken against the US following their invasion of Iraq, why action has not been taken against Saudi Arabia on account of their continuous and indiscriminate bombing of Yemen?, Why has the same action not been taken against Britain for their ongoing occupation of our own country?. Why are countries awarded with hosting World Cups despite gross human rights abuses? Why are clubs punished for highlighting the war crimes and human rights abuses in Palestine, while others are not punished for supporting Ukraine in their war with Russia? If action is to be taken against nations in football we ask that it be implemented consistently and not at the request of capitalist governments and imperialists engaged in implementing sanctions against nations of their choice. We cannot on the one hand tell people not to bring politics into sport, while on the other punish nations based on the political and economic interests of imperialist states.